The Friedman Values – What they Mean to Friedman
Countless factors determine the success of an organization; its team members, clients, partners, leadership, etc. With all these moving parts, it's hard not to wonder what cements them all in place. At Friedman, we owe our 30+ years of success to our values.
Defining Friedman's Culture
David Friedman and Stan Finsilver did not know their own qualities and work ethic would lay the framework for how to create value beyond real estate when they began buying and managing properties back in 1987. However, they were already setting the expectations for Friedman members to come. Although things have certainly changed over the last 30 years, one thing still remains the same. Our values are at the basis of everything we do.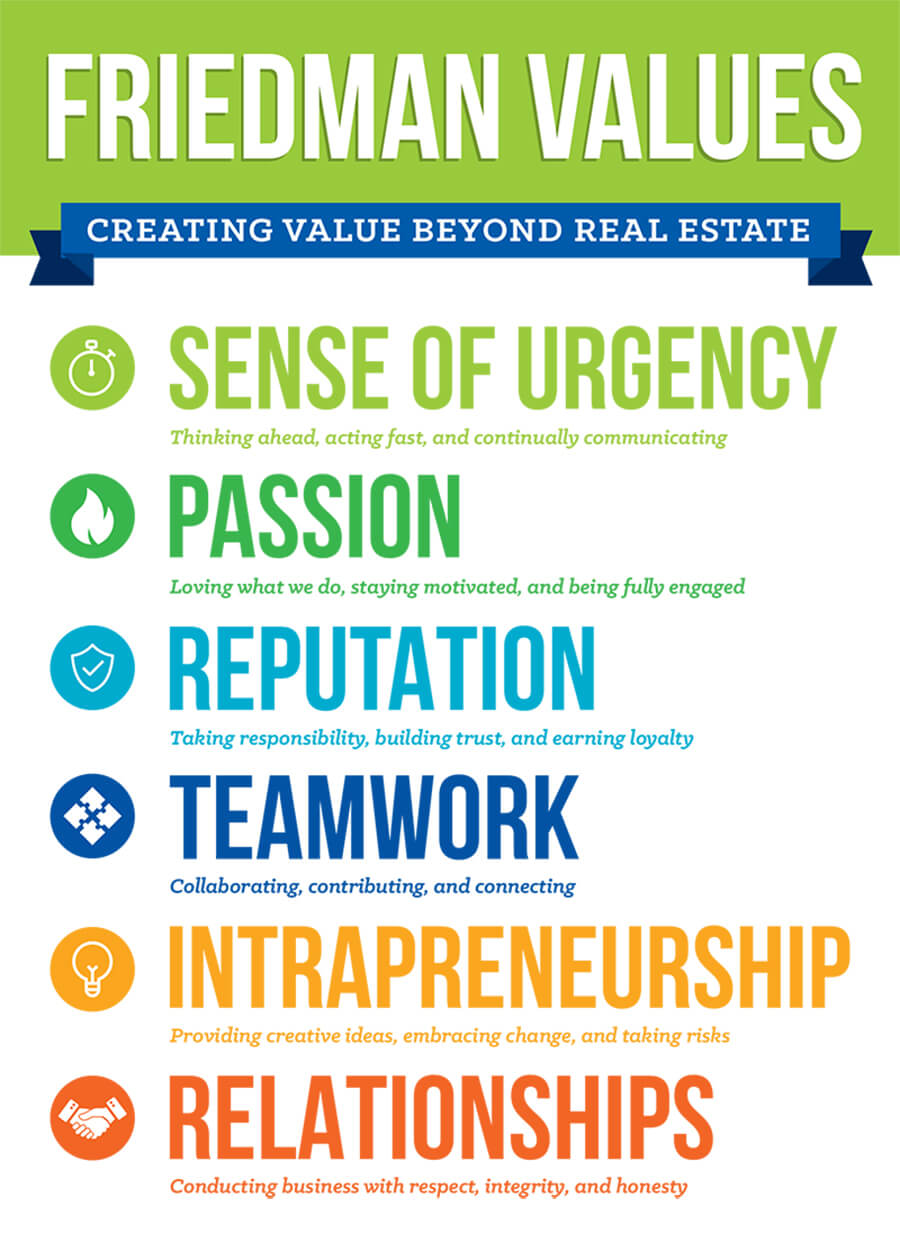 Creating Value Beyond Real Estate
Representing what is important to us and our standard of behavior, Friedman's leadership embodies our values on a daily basis. Here's what our values mean to them:
Sense of Urgency
As the saying goes, never put off until tomorrow what you can do today. Our belief is to take this a step further. Not only acting fast but thinking ahead to predict future needs. Our sense of urgency is what motivates and allows our team to create positive, long-lasting results and improvements, which translates into higher retention rates and happier tenants. Whether we're servicing our clients, employees or partners, we make sure to collaborate, think smart and move quickly. With every task, large or small.
Brian Bass, Senior Managing Director, Facilities & Owned Real Estate
Passion
True passion lies within the notion of thinking two steps ahead of where we are today. It's about having the curiosity to look beyond the daily tasks to become the best version possible. At Friedman, passion is not only loving what you do, but striving to go above and beyond to learn new things and create innovative solutions for the future of real estate.
Jared Friedman, Director of Opportunities
Reputation
A good reputation is something that takes a long time to create and only a second to ruin. At Friedman, we take this very seriously. Not just for maintaining our reputation, but to ensure that our clients, partners and employees can always count on us to do the right thing.
David Friedman, President & CEO
Teamwork
As a full-service, fully integrated real estate organization, effective teamwork across all our services is a must. Teamwork and collaboration areencouraged at every level. Understanding we are only as good as our weakest player, we make it a point to challenge, inspire and constantly build on one another.
Jim Parrinello, Vice President of Construction, Premier Construction
Intrapreneurship
Intrapreneurship is simply acting like an entrepreneur within the walls of a large organization. One of the things I like most about Friedman is that we encourage our people to do just that. The commercial real estate industry is evolving, so we need to be creative and innovative to continue to grow and serve our clients in new ways. We take risks and embrace new ideas. Intrapreneurship is central to who we are…it's woven into our company 'DNA'.
Gary Goodman, Senior Managing Director, Brokerage & Innovation
Relationships
Without wonderful relationships with your clients and staff, you can have no lasting success.
Stan Finsilver, Executive Vice President
The Friedman Story of Creating Value for Over 30 years