DETROIT – Some of the most historic buildings in Detroit were designed by legendary architect Albert Kahn.
Kahn was born into a poor German family that moved to Detroit in 1880, when Kahn was 11-years-old
Kahn was a piano playing child prodigy – but because of how poor his family was, Kahn was forced to work odd jobs to support them.
Kahn wanted to become an artist, but was colorblind. As a teenager, Kahn won a scholarship to study abroad in Europe, where he found his love to architecture.
In 1895, Kahn founded the firm Albert Kahn Associates, where Kahn and his younger brother Julius developed a new style of construction, where reinforced concrete replaced wood in factory walls, and roofs.
Their first development, designed in 1903, was the Packard Motor Car Company's factory, also known as the Packard Plant. The success of the Packard caught the attention of Henry Ford.
Kahn designed Ford's Highland Park plant in 1909, and later designed the Ford River Rouge Complex in Dearborn in 1917, which grew into the largest manufacturing complex in the country.
Kahn worked on more than 1,000 commissions from Ford and hundreds for other automakers. His firm grew into the go-to team for the biggest building projects in the area.
Some of the projects included the Fisher Building, Willow Run, The Dearborn Inn, the original Cass Technical High School, First National Building and the Detroit Athletic Club, to name a few. (Full list below!)
When the Great Depression hit, Kahn and his firm designed 521 factories in the Soviet Union and trained more than 1,000 engineers.
Kahn was best known for his industrial projects, but also took on many clubs, hotels and office buildings. He also designed many buildings for the University of Michigan.
By 1937, Kahn was responsible for 19 percent of all architect-designed factories in the U.S.
In 1941, Kahn was the eighth highest paid man in the U.S., earning $486,936.
Kahn died in Detroit on December 8, 1942 at the age of 73.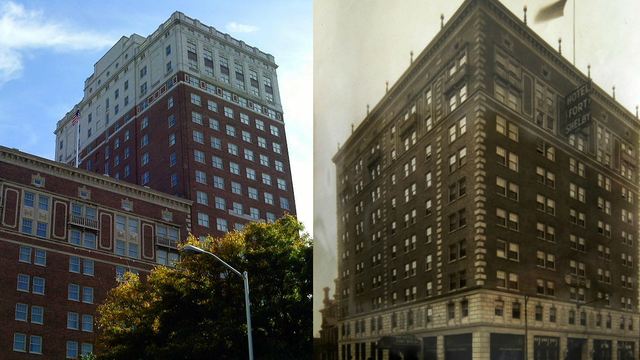 Buildings designed by Albert Kahn
Albert Kahn Building (aka New Center Building) – 7430 Second Ave. [Detroit]
Argonaut Building (aka General Motors Laboratory Building) – 485 W. Milwaukee St. [Detroit]
Bob-lo Island Dance Pavilion – Bob-lo Island
Cadillac Place (aka General Motors Building) 3044 W. Grand Blvd. – [Detroit]
Detroit Arsenal Tank Plant
Detroit Athletic Club – [Detroit]
Detroit Police Headquarters – [Detroit]
Detroit Trust Co. Building- 201 W. Fort St.[Detroit]
Detroit Urban League (aka Albert Kahn House) – [Detroit]
Downtown YWCA (aka YWCA Central Branch) – 2230 Witherell [Detroit]
First National Bank Building – 660 Woodward Ave. [Detroit]
Fisher Body Plant 21 – Piquette Ave. [Detroit]
Ford Highland Park Plant – [Highland Park]
Ford Rotunda – [Dearborn]
Garden Court Apartments – 2900 E. Jefferson Ave. [Detroit]
Grand Trunk Building (aka Transportation Building, Detroit Free Press Building) – Lafayette St.- [Detroit]
Griswold Apartments (aka Griswold Building) – 1214 Griswold St. [Detroit]
Jefferson Theatre – 11008 E. Jefferson Ave. [Detroit]
William Livingstone Memorial Light – Belle Isle [Detroit]
Maccabees Building – [Detroit]
Palms Apartment Building – [Detroit]
Park Avenue Building – 2001 Park Ave. [Detroit]
Temple Beth-El (aka Bonstelle Theatre) – 3424 Woodward Ave. [Detroit]
Vinton Building – 600 Woodward Ave. [Detroit]
Woodward Building – 1451 Woodward Ave. [Detroit]
Dearborn Inn
Hill Auditorium [Ann Arbor]
Ken Haddad, <a href="http://www.clickondetroit.com/features/albert-kahn-architect-of-detroit" target="_blank">Click On Detroit </a>.