You might think that the reams of analysis done on office space would have by now turned every workplace into a humming hive of engagement and productivity. Earlier this year, we even got an advance look at a research paper that outlined alternative design strategies to make workers happier.
The paper, Ethonomics: Designing For The Principles Of The Modern Workplace—authored by Teknion, in collaboration with design expertslike Joan Blumenfeld, principal of Perkins+Will, one of this year's Most Innovative Companies—revealed that the workplace is ripe for reinvention.
As Blumenfeld told Fast Company:
Workspaces should flex to provide a variety of spaces and destinations for workers to inhabit that promote movement throughout the day. While many companies are doing a good job of incorporating some of these elements into their workplace design, there's a need for more awareness and implementation of this way of thinking holistically about the workplace.
Approaching the New Year seems like as good a time as any to say out with the old walls that block natural light, separation of departments, major investments in public spaces at the expense of the back office and other design elements thatbum workers out, and in with creative solutions that bring people together in ways they can be at their best.
We talked to the design experts at Teknion, Poppin, a manufacturer of workplace furniture and accessories, and Workwell Partners, a design firm specializing in creating efficient spaces to see what they predict are the most useful trends for 2016. Here's what they told us.
TREND #1: HIDING THE WIRES
Scott Lesizza, principal at Workwell Partners says one of his clients' most requested solutions is help with eliminating wires and clutter from desktops and conference rooms. "Between wires, laptops and other electronic devices, to docking stations, paperwork and personal items, there are many things that can make a room full of open desks appear very disorganized," says Lesizza. Even a $30,000 conference table can look terrible if wires are not well concealed within the table, he observes. "Luckily we are seeing more manufacturers develop solutions that are clean and simple," he says.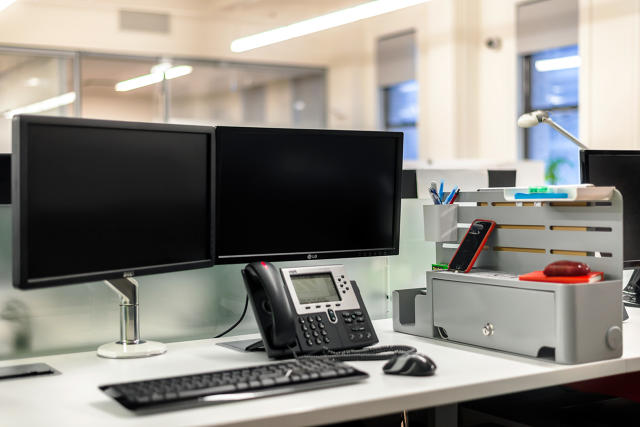 TREND #2: BRINGING THE OUTDOORS IN
Lesizza says nature is having a serious moment in design. Reclaimed wood panel installations, exposed concrete flooring, and incorporating natural flora patterns in fabrics and artwork are all becoming more prominent, along with plant life itself in the form of living walls, he says. "Some of our favorite pieces and projects from the last year take a page from this trend, and also go hand in hand with one of the bigger trends: bringing the home into the office," says Lesizza. "It's the natural, cozy feeling that a lot of these finishes and details have that will continue to make this trend a popular one throughout 2016."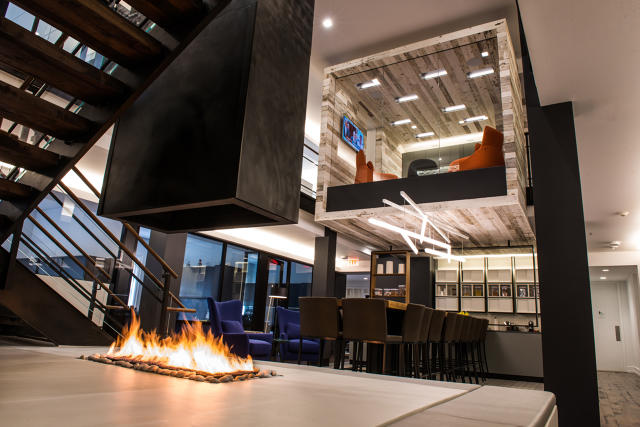 TREND #3: MULTIPURPOSE WORKSPACES
Lesizza observes that in his 20 years in the design business, he's never seen change happen so quickly. "Not only are cubicles disappearing," says Lesizza, "but now their replacement—the bench—is being overtaken by non-assigned seating." The executive suite is still not playing to this trend, however; multipurpose spaces can be utilized for everything from multimedia presentations to casual breakout areas. "We'll also see more oval-shaped office desks, which allow for a more convenient place for 4-6 people to meet, as well as a shift toward height adjustable tables for standing meetings," he says.
TREND #4: DESIGNATED LOUNGE AREAS
Jeff Miller, a veteran of Apple and Herman Miller who's now vice president of design at Poppin sees a move toward creating spaces that are the antithesis of rigid workstations. "Lighter, powerful, wireless technology has untethered the workspace more than ever," Miller notes, so offices can be more comfortable, which stimulates relaxed collaboration. "Offices now mandate the inclusion of dedicated lounge areas to make working more enjoyable," Miller says.
TREND #5: OFFICES ORGANIZED BY COLOR
"I'm a strong believer that if you organize your work environment with color, it will help your thoughts be more organized and colorful," says Miller. He cites several studies that color boosts happiness, productivity and creativity. "We're seeing more offices integrate pops of color in unexpected ways and therefore strive to be at the forefront of offering a wide color spectrum of accessories and furniture," Miller explains.
TREND #6: COMMUNITY TABLES
Steve Delfino, vice president of Corporate Marketing and Product Management at Teknion says the community table reflects a cultural moment. "People are looking for more interaction at work and in other public settings, including restaurants and hotels where large shared tables are making an appearance," he observes. But the community table has been a meaningful object for centuries, a symbol of kinship or alliance that is now becoming an important part of the work environment, Delfino adds. "Today, the table emerges as a relevant feature of an evolving workplace that now exhibits many of the characteristics of a domicile—more relaxed, more congenial and collaborative," he says.
TREND #7: A MIX OF DIFFERENT TEXTURES
Delfino says he's seeing an increased emphasis on using varied materials throughout the workplace to create environments that influence wellness and productivity. "Products with a rich material vocabulary provide designers with the opportunity to be original and bold—to use color and texture to create a more varied, inspiring and personalized work environment," he says.
TREND #8: THE END OF PERMANENT LAYOUTS
Flexibility is something all three design experts are seeing as a growing trend as traditional office spaces, planned in advance with permanent layouts, are giving way to the needs of an ever-changing work landscape. Delfino notes that products designed to have every element move into place and fit together without rules based planning are at the forefront of the office of the future. "Modular components can be mixed, stacked and moved around, offering innumerable combinations for a dynamic and collaborative workplace," he says.